New Church e-mail addresses:
The church e-mail addresses have changed. Please note the new email addresses:
Reverend David Chillman: [email protected]
Office administrator Lori Tanner: [email protected]
Regional Gathering
An important opportunity for people from all the Anglican churches across our region to gather together. Saturday 8th June, starting at 12:30pm at St. Mary's Anglican Church, 2600 Powder Point Rd, Nanoose Bay, BC V9P 9E8
The first half will be looking at the Heartbeat of the Church. We will use our Primate, Fred Hiltz's 3 questions to generate an exploration of where we are as a Region and where we want to go.
1) What in the Church gives us joy?
2) What in the Church causes our hearts to ache?
3) What in the Church gives us hope?
The second half of our gathering will be reflections and Transforming Futures, led by Bishop Logan
All welcome.

What's New:
Ladies Group Luncheon: Thursday, June 6, 11:30 at the Black Bear Pub. We would like to invite all the ladies from St. Philip's as well as their friends to come and join us. It is a wonderful chance to meet other members of the parish and share some time together. There is a sign-up sheet on the board in the multi-purpose room to give us #'s for the restaurant. If anyone needs a ride, please contact Catherine Cembella at 250 - 585 - 8309 or by e - mail at [email protected]
Annual Church Open Air Service and Picnic: Our annual open air service will be on Sunday June 23rd, at 10am. Please note that there will NOT be a service at 8am that day. After the service, everyone is invited to stay for a picnic in the church grounds. This is a great opportunity to invite friends, neighbours or family to come and worship with us in glorious surroundings and to share a meal afterwards. Invitation cards will be available over the next couple of weeks, for you to give to someone to invite them to come with you on that day. Please think and pray carefully about who you are intending to invite.
TRINITY SPRING GARAGE SALE: Located at the Nanaimo Ecumenical Centre, 6234 Spartan Road, downstairs in the hall on Friday May 31st, 1pm-5pm and Saturday June 1st, 9am—Noon. All you can stuff in a bag for $2 on Saturday (some exceptions apply).
BON VOYAGE for Europe: The A Capella Plus & VI Choir with Patricia Plumley are leaving for a musical adventure touring Scotland & Croatia. They perform at a high standard. Come & listen to their program. Something for EVERYONE! Monday June 17; 7 pm after FREE Community Dinner. Small reception afterwards in Church Hall. Admission is by donation & will benefit the improvement of our Memorial Garden.

What's Happening at St. Philip's:
Summer Newsletter: Yvonne is working on the next edition of the St. Philip's Newsletter. Please send your articles, stories, helpful hints, exciting family news, photos, etc. to Yvonne at [email protected]
Men's Breakfast: Tuesday, June 11th - 9 am at Ricky's Restaurant in Nanaimo. All are welcome! For more details, please contact Don Chamberlain: 250-390-4942
Ladies Fellowship Meeting: Tuesday, June 11th, 10:00 a.m. in the library. For more information contact Pat Wimmer at 250-760-0596.
Anglican Journal: Please confirm your subscription today. If you wish to continue to receive the Anglican Journal (and your diocesan paper with it), please complete the confirmation in one of the following ways:
email [email protected] with your name, address, phone number and ID#(from label, if available)
phone: toll free: 1-866-333-0959
online: go to anglicanjournal.com/yes
If the office does not hear from you, your subscription will come to an end with the June 2019 issue.
Flower Guild Coordinator: We are looking for someone to join our Altar Guild team as the Flower Guild Coordinator. This entails checking the flower schedule on the notice board each week and contacting those who have committed to provide the Altar Flowers for each Sunday, and coordinating the delivery of the flowers to church on Saturday. If you think this is something you might be interested in please contact either Reverend David (390-3641) or Ann Smith (585-7789). Thank you.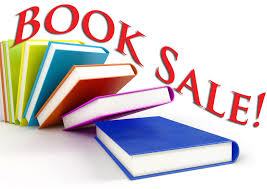 Book Sale - Fundraiser Do you have some books that you would like to put to a good cause? If so, please bring them to the church at any time and leave them in the library. We will incorporate them into the already set up shelves and they will go on sale! We have priced the books very reasonably, small paperbacks $1; large paperbacks $2 or $3; hardcover books from $3 - $5. There is a money box situated on the shelf and you can put the money in as you buy your books – on trust! Once you have read the books, please bring them back so that we can recycle them into the shelves and give someone else a chance to buy a very reasonably priced books. This project is one of the new initiatives that the parish is undertaking to try and help with the ongoing financial difficulties. Thank you. Parish Council
Travelling Basket: The Ladies Group has come up with an idea to help raise money. The travelling basket contains items that have been donated by people. These can be such things as knickknacks, hand made items or baked goods or an item that is no longer needed. All the items can be purchased by making a donation in the money box. Please do look and see what is in the travelling basket and also think about whether you have a small item that can be given to the basket.
Dial-a-sermon: Is there a Bible passage that you've never heard someone preach about before? Or a topic that you would like to hear someone preach about? Well now's your chance! If you want me to preach on a particular passage (no matter how bizarre) or on a topic (no matter how controversial), please suggest it on the sheet in the Multi-Purpose Room and I will try and preach on it in the next few months.


Important Reminders about Health Matters:
St Philip's is a scent-free zone
The chemicals used in scented products can make some people sick, especially those with fragrance sensitivities, asthma, allergies and other medical conditions. Out of love and consideration for others, please do not wear perfume, cologne, aftershave and other fragrances and instead use unscented personal care products.
Intinction (Dipping)
It is the policy of the Bishop and Diocese of British Columbia that intinction is not an acceptable practice for public worship. A combination of current literature and expert medical advice concludes that sipping from the common cup and sharing a handshake represent minimal risk of transmission of contagion and fall within the parameters of the normal risks of daily living. On the other hand, the practice of intinction is a higher risk activity; fingertips coming in contact with the bread which is then dipped in the wine or fingertips coming in direct contact with the wine may contaminate the shared wine with pathogens other than those found in saliva. The choice for a communicant, then, is to share the common cup or to receive in only one kind. Anglican sacramental theology has always held that the benefits of the sacrament do not require the reception in both kinds.


Community News:
The We Together conference will be held at St Paul's in Nanaimo this year. We are looking to you for your hospitality in offering a space for a traveler to stay, the date is Friday Sept 27th, 2019 – perhaps a continental breakfast could be provided by the host family . Please prayerfully consider this request and contact Trish Vollmann-Stock at [email protected] or call 250-510-5454
THE GREAT CANADIAN HYMN SING….hey Vancouver Island, a coast to coast celebration is now live and ready for your votes! Learn all about it and cast your vote now for your favourite hymn at: www.thegreatcanadianhymnsing.com Voting closes June 30th. Once decided, we will hold a spectacular concert with special guest artists to sing those top 10. The Victoria concert will be held at the Royal Theatre, 805 Broughton St. on September 8, 2019, from 3:00 pm - 4:30 pm. Tickets for the concert will go on sale May 15th.
Sorrento Centre Retreat & Conference Centre: Looking for sunshine, inspiration & play this summer? Registration is open for the summer programs being offered at the Sorrento Centre. For more information or to register, visit their website at sorrentocentre.ca or view the handout on the bulletin board and table at the front entrance to the church.