What's New:
Do you have current first aid/CPR training? We would like to get an idea of how many of St. Philip's parishioners have current first aid/CPR training. If you do, please email Lori at [email protected] or call 250-390-3641.
Motown Magic: Join us this October for the World Premiere of Motown Magic – 60 Years of Music Hits as we take you on a journey of classic music that made history, defined the sound of a generation and got the whole world moving to the same beat.
Under the creative direction of Renee James Productions International comes an exciting new high octane musical concert celebrating 60 years of Motown hits.
STARRING Canadian Singer/Actress, Leina DeBoer, WITH SPECIAL GUEST STAR Award-Winning International Recording Artist, Owen Lee and featuring Performers: Karina Evangeline, Danica Domay, Teagan Gibson, Rebecca Laurenti and the 6-Piece Motown Magic Band

MOTOWN MAGIC blends together some of the most iconic artists who helped create a soundtrack that would transform America including Stevie Wonder, Aretha Franklin, The Jackson 5, The Temptations, Marvin Gaye & Tammi Terrell, Smokey Robinson, and Diana Ross and the Supremes among many others. Featuring over 20 classic hits such as 'My Girl', 'Ain't No Mountain High Enough', 'Please, Mr. Postman', and "Respect" this British Columbia premiere event will have you 'Dancing In the Streets'!
For more information or to register visit www.porttheatre.com or call 250.754.8550
Poster also attached below.

What's Happening at St. Philip's:
A Prayer for General Synod: The General Synod of the Anglican Church of Canada meets this year from July 10-16, 2019 in Vancouver BC. General Synod will be considering important matters for our common life such as the establishment of a self-determining indigenous church, the practice of marriage and the election of a new primate.
In the build-up to General Synod, please pray for all Synod delegates. You may like to use the following prayer:
God of our ancestors, God of our future,
who was and is and is to come,
you have named us in baptism,
and called us into friendship with you and one another.
In this General Synod,
give all participants grace to listen well,
to speak with respect,
to deliberate with wisdom,
and to honour this gathering of your beloved Church;
through Jesus Christ, before whose name we bow in adoration and praise,
now and for ever.
Amen.
New Church e-mail addresses: The church e-mail addresses have changed.
Please note the new email addresses:
Reverend David Chillman: [email protected]
Office administrator Lori Tanner: [email protected]
Treasurer (Tony Davis): [email protected]
Flower Guild Coordinator: We are looking for someone to join our Altar Guild team as the Flower Guild Coordinator. This entails checking the flower schedule on the notice board each week and contacting those who have committed to provide the Altar Flowers for each Sunday, and coordinating the delivery of the flowers to church on Saturday. If you think this is something you might be interested in please contact either Reverend David (390-3641) or Ann Smith (585-7789). Thank you.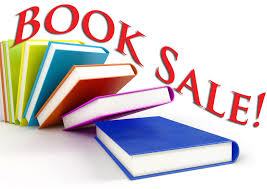 Book Sale - Fundraiser Do you have some books that you would like to put to a good cause? If so, please bring them to the church at any time and leave them in the library. We will incorporate them into the already set up shelves and they will go on sale! We have priced the books very reasonably, small paperbacks $1; large paperbacks $2 or $3; hardcover books from $3 - $5. There is a money box situated on the shelf and you can put the money in as you buy your books – on trust! Once you have read the books, please bring them back so that we can recycle them into the shelves and give someone else a chance to buy a very reasonably priced books. This project is one of the new initiatives that the parish is undertaking to try and help with the ongoing financial difficulties. Thank you. Parish Council
Travelling Basket: The Ladies Group has come up with an idea to help raise money. The travelling basket contains items that have been donated by people. These can be such things as knickknacks, hand made items or baked goods or an item that is no longer needed. All the items can be purchased by making a donation in the money box. Please do look and see what is in the travelling basket and also think about whether you have a small item that can be given to the basket.
Dial-a-sermon: Is there a Bible passage that you've never heard someone preach about before? Or a topic that you would like to hear someone preach about? Well now's your chance! If you want me to preach on a particular passage (no matter how bizarre) or on a topic (no matter how controversial), please suggest it on the sheet in the Multi-Purpose Room and I will try and preach on it in the next few months.
News from the Diocese:
2019 We Together Diocesan Conference: September 27-28 at St. Paul's Anglican Church in Nanaimo. Cost is $79 which includes Friday evening reception with cash bar, Saturday lunch, keynotes and two workshops. Eight workshop themes to choose from.
We Together is our diocesan biennial family reunion. It's an opportunity to reconnect with old friends and a time to make new ones. Together we learn about, pray about and share what God is up to in our lives, strengthening ourselves, as the diocese of islands and inlets, for the journey God is calling us to.
Keynote speaker Padraig O Tuama: A profoundly engaging public speaker, Ó Tuama has worked with groups to explore story, conflict, their relationship with religion and argument, and violence. His work is marked both by lyricism and pragmatism, with an ethic of evoking stories and participation from attendees at his always-popular lectures, retreats and events.
For more information about this event click on the following link https://www.bc.anglican.ca/events/we-together
Community News:
Celebration of Summer - An afternoon of beauty & heavenly music at Shawnigan Lake School: Wednesday, July 31, 2019. Grounds open at 1 pm, Concert at 2pm, afternoon tea follows. $35 per person. Tickets: call 250-468-5684. Only a limited number available at the door. All proceeds to benefit the Anglican Parish of St. Mary, Nanoose Bay. For more information click on the following link: https://www.stmarynb.ca/events/celebration-of-summer/2019-07-31
Ma'qa'th Food Program: The Ma'qa'th Food Program runs weekly, based at the Snaw-naw-as Health Centre in Upper Lantzville. This has been set up by Debbie Heath, who is the Community Nurse at the Health Centre and all the food is provided by Loaves and Fishes.
The program is open to everyone who lives in Lantzville and on the First Nations reserve. We have a great set of volunteers, including a number of people from St Philip's. More volunteers are always welcome!
The Food Program runs from 2pm to 3pm every Tuesday. If you know of anyone who may like to benefit, please let them know about the Program.
Sorrento Centre Retreat & Conference Centre: Looking for sunshine, inspiration & play this summer? Registration is open for the summer programs being offered at the Sorrento Centre. For more information or to register, visit their website at sorrentocentre.ca or view the handout on the bulletin board and table at the front entrance to the church.
Fake Emails
If you receive an email claiming to come from David Chillman using the email address of [email protected] please do the following immediately:
Do NOT open it
Delete it
Let David know that you have received an email from that email address
If you have already received an email and opened it, please delete it immediately and run an antivirus software scan on your computer, just to be on the safe side.
These emails are fake and the fake email address has been reported to Google. Please accept David's apologies for any inconvenience that this may have caused.
Additional advice on email security:
a) Always question up front whether someone you know would ask you to purchase anything on their behalf via an email. Follow-up with a phone call if you think it could be real.
b) If you suspect an email of being nefarious, do not respond to it. By responding to the sender we are encouraging them to keep trying.
c) If you receive an email from the church office or from the rector, always check that the sender is using an official email address before responding.
Important Reminders about Health Matters:
St Philip's is a scent-free zone
The chemicals used in scented products can make some people sick, especially those with fragrance sensitivities, asthma, allergies and other medical conditions. Out of love and consideration for others, please do not wear perfume, cologne, aftershave and other fragrances and instead use unscented personal care products.
Intinction (Dipping)
It is the policy of the Bishop and Diocese of British Columbia that intinction is not an acceptable practice for public worship. A combination of current literature and expert medical advice concludes that sipping from the common cup and sharing a handshake represent minimal risk of transmission of contagion and fall within the parameters of the normal risks of daily living. On the other hand, the practice of intinction is a higher risk activity; fingertips coming in contact with the bread which is then dipped in the wine or fingertips coming in direct contact with the wine may contaminate the shared wine with pathogens other than those found in saliva. The choice for a communicant, then, is to share the common cup or to receive in only one kind. Anglican sacramental theology has always held that the benefits of the sacrament do not require the reception in both kinds.

<![CDATA[TW9tcmxxekkxMG0zZHJqSThRUDBGSVk2R3B1VkVWT2tnRDdZRkJzVDVpU3h1WmdJcHZqZEZZbThrSnNOazJ0dzNZVHhrWE9lM085V2M3S1FQL0dXb24zVGpiTHV5ajdibnhPTnZHNm1JRTcvYlBNdE03V1Y4VCs1UXNUcCtvODJvUXpJMmRYbng3dUNCWjl3VWxIaTl0QVZFTFdlSlpwVlNSRlhLN1VFWkpNPS0tOGdnb3lJRVFxL09nYUxhOWQwZU4vZz09--99c13900b5fe3ed278f1477047463051c69d3f54]]>