What's New:

Week of Prayer for Christian Unity Worship Service: Join us as we celebrate the Week of Prayer for Christian Unity with our brothers and sisters in faith across Christian denominations with a service of thanksgiving and remembrance. Sunday, January 20, 2019, 1:30pm at St Peter Roman Catholic Church, 301 Machleary St.
This ecumenical service will be led by Gary Gordon, bishop of the Archdiocese of Victoria, Greg Mohr, bishop of the British Columbia Synod of the Evangelical Lutheran Church in Canada will preach and our own bishop, Logan McMenamie will attend.
Bishop Logan coming to St Philips: Bishop Logan will be making aparish visit to St. Philip's on Jan 20th and will preside and preach at the 10 a.m. service. He will be accompanied by the newly appointed Diocesan Executive Officer, J. Barry Foster.
Emergency Preparedness Workshops - January 28th: Melissa Tomlinson, the Special Projects Coordinator for Emergency Planning Services for The Regional District of Nanaimo will be leading a workshop on how we can prepare as individuals and a community for emergencies such as earthquakes or fires. There will be lots of practical advice on what we need to do to try and make sure that we are as prepared as possible for whatever may happen in our area. There will be two workshops on that day, one at 2pm and the other at 7pm. Please seriously consider coming to one of them and also inviting friends and neighbours to come with you as well.

What's Happening at St. Philip's:
Ladies Group: Thurs, January 10th at 1:30 pm in the Multi Purpose Room. We welcome all ladies from the parish to join us.
St Philip by the Sea Singing Group: Next practice is Thurs, January 10th at 7:00 pm.
A Workshop for You - Readers & Prayers of the People: Saturday, January 19, 2019. The churches of St Mary's Nanoose Bay, St Paul's Nanaimo and St Philip's Lantzville are working together to run a workshop on leading the prayers of the people and doing the Bible readings. Review the basics and learn new creative ideas; practice and share resources. Come for one session or both; and stay for lunch. Lunch will be provided. This is open to everyone who currently takes part in these ministries and also for anyone who might want to try their hand. Saturday January 19, 2019, from 10:30-2:30 (lunch provided) at St. Mary's Anglican Church, 2600 Powder Point Road, Nanoose Bay. No charge to attend but please register by calling David or Lori at 250-390-3641 or by email [email protected] so we know how many people to prepare for. For more information, please refer to refer to the attached poster, below the announcements.
Flowers for the Altar: There are still many dates open for 2019. If you would like to bring flowers, please add your name to the calendar on the church bulletin board, and contact Patricia Thomson-Turner, our Flower Guild Coordinator, at 778-269-1054 or [email protected]
Come on out and support St. Philip by the Sea. Tickets now available!
A fundraising concert for St. Philip by the Sea will be held on Sunday, February 17th at 3:00 pm. Listen to some Fabulous Canadian Music with Celtic, Bluegrass, Country, Folk & Gospel Flavors - A Concert with Saskia and Darrel; The Great Plains. Tickets ($15 adults & $10 youth (16 and under) available at the Church after services or at the door or call 250-390-3641.
For those who do not know Saskia and Darrel yet, come on down to meet them, they are very friendly. They tour throughout Canada and Europe and are certainly no strangers to Nanaimo as they live in Comox. They are very happy to be coming to Lantzville for a "Spring" concert.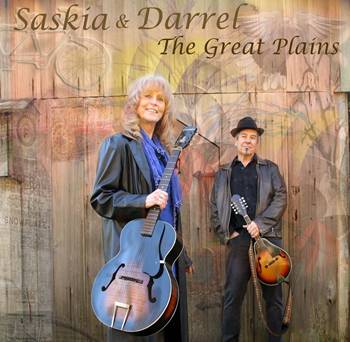 Enjoy a heart-warming show filled with music, merriment, and mayhem as Saskia and Darrel deliver a fun blend of music, an unpredictable series of songs that change every time you see them. They delight their audience with tales about Grain Elevator, War brides, Patchwork quilts, and history makers such as Louis Riel and David Thompson. They will share some sweet songs about their own spiritual journey plus they might break into Swiss yodeling, or sing in Gaelic, Dutch, German or French.
Great Plains are a veteran touring act; with an easy, crowd-friendly style that instantly endears them to any audience. This is true Canadiana; real songs, drenched in our culture and heritage delivered in comfortable highly skilled sets with oodles of self-poking humor. A taste of Celtic, a dab of bluegrass, a touch of folk all wrapped around extremely beautiful melodies. They perform throughout all of Canada and Western Europe and have cultivated an immense following…… winning over their fans one town, one hall at a time. For more information or to have a listen click on the following links: www.thegreatplains.ca https://www.youtube.com/channel/UC92P5A-gKG_TCB8_m3z_ZEA https://www.facebook.com/greatplains.ca https://www.reverbnation.com/saskiaanddarrel
Loaves and Fishes Depot for Lantzville: Debbie Heath, who is the Community Nurse for the Snaw-Naw-As First Nations reserve, is hoping to set up a Loaves and Fishes depot based at the First Nations Health Centre in upper Lantzville. This will be open every Tuesday afternoon and will be for all Lantzville residents. At the moment, she is looking for volunteers to act as distributors at the depot. If you volunteer, full training and orientation will be provided by Loaves and Fishes. It is hoped that the new depot will be up and running early in 2019. If you would like to volunteer for the project to serve our local community, please give David your name and phone number and he will then pass the list along to Debbie.


News from around the Diocese:
Brendon Neilson joined diocesan staff as the part-time vision animator, effective December 10, 2018. Please be aware that Brendon will be in the diocesan office on Tuesdays, Wednesdays and Thursdays only.

Tara Saracuse joins diocesan staff as executive assistant to Bishop Logan effective February 4, 2019.
J. Barry Foster has accepted his appointment as the diocesan executive officer. He joins the diocesan staff on January 15. Barry comes to us from the Diocese of Calgary where he served as the executive officer and executive archdeacon. If you wish to welcome him you may do so by emailing him at [email protected].
Community News:
The John Albert Hall Lecture Series: Christian Fascism and the Rise of Donald Trump: Pulitzer Prize winning journalist and NY Times best-selling author, Christopher Hedges, will be our featured speaker during the CSRS's second John Albert Hall Public Lecture event in Spring 2019.
Hedges, one of North America's most prominent public intellectuals, will comment on the current state of religion and politics in the US in his free public lecture, "Christian Fascism and the Rise of Donald Trump." The talk will take place at UVic on January 17, 2019 from 5:00-6:20pm, in Hickman Building 105, University of Victoria. Light refreshments will be served. See attached poster at the bottom of the announcements.
Moving Forward - a journey towards reconciliation: Hope Lutheran Church, January 25 & 26th. For more details, see the poster attached to the announcements.
Knitted Together in Mystery - Diocesan Women's Spring Retreat - April 5 - 7, 2019: Join us as we explore what it means to be at home with God, self and neighbour. As faith detectives, we'll investigate holy encounters in scripture, our own lives and in the world. During worship, gather with Mary and Martha, Ruth and Naomi, the Syro-Phonecian woman and her daughter, along with a host of others. Bring your yard, deer stalker and magnifying glass as we engage in spirited sleuthing. Registration deadline: March 17, 2019. For more information: visit https://www.bc.anglican.ca/events/diocesan-womens-spring-retreat--204
Bethlehem Retreat Centre: Retreats for the New Year. For more information click on this link: https://bethlehemcentre.com/