What's New:
A little garden on a bleak hillside
Where deep the heavy, dazzling mountain snow
Lies far into the spring. The sun's pale glow
Is scarcely able to melt patches wide
About the single rose bush. All denied
Of nature's tender ministries. But no,
For wonder-working faith has made it blow
With flowers many hued and starry-eyed.
Here sleeps the sun long, idle summer hours;
Here butterflies and bees fare far to rove
Amid the crumpled leaves of poppy flowers;
Here four o'clocks, to the passionate night above
Fling whiffs of perfume, like pale incense showers.
A little garden, loved with a great love.
Amy Lowell, 1874–1925
This mild Winter has tempted a lot of us, including Mother Nature, to consider growing early but we need to keep an eye on the snow at the top of Mount Benson ... a sudden frost will wreke havoc on developing buds.
We can, however, begin to divide and pot up perennials and sow certain more hardy seeds such as sweet peas, dahlias, delphinium, basil, begonias, chillies and eggplant. We can get into our beloved gardens and daydream about what will be going where, the best way to avoid powdery mildew and how many tomatoes we will harvest.
We also start planning which plant sales we will attend in the hopes of that extra special bargain and a chance to exchange ideas.
Which brings us to this year's Great Big Annual St Philip's Plant Sale. This is a good fund-raiser and outreach opportunity for our church as we see and chat with a lot of people at the sale.
Anything, absolutely anything, garden-related in good condition that you do not want will be happily taken off your hands and put in the Great Big Annual St Philip's Plant Sale which is on Saturday 11 May from 9.00am–2.00pm.
If you can donate any garden tools, decor, plants etc. please bring them along to the church on Friday 10 May between 2.00pm and 5.00pm when we will be setting up for the sale. If you are unable to deliver please contact Jude Chillman ([email protected] or 250 585 1345) or Yvonne Downey ([email protected] or 250 751 7897) and they will arrange collection. Donations of a non-organic variety can also be dropped off at the church when convenient – please put them tidily beside the shed.
If you are planting seeds, dividing perennials or taking cuttings please consider doing a few extra and donating them for the sale. Local plant sales help keep local bio-diversity strong by helping growers avoid the big commercial sellers whose plants are often bad for the pollinators on which we all depend.
Bruce's Bottles Returnables Recycling for the month of January: Total: $33.25 Items Returned: 383 Towards our 4th Goal of $5,000: $2,499.70 Did you know that we as consumers need to consider what we are buying that contains plastic (packaging and product) and whether it is needed? The National Geographic released a study that says, "Of the 8.3 billion metric tons [of plastic] that has been produced [since the 1950s], 6.3 billion metric tons has become plastic waste. Of that, only nine percent has been recycled." (source: https://news.nationalgeographic.com/2017/07/plastic-produced-recycling-waste-ocean-trash-debris-environment/)

What's Happening at St. Philip's:
Sunday 10 February: On 10th February, Catherine Pate will be preaching at both 8am and 10am services. Catherine is the Diocesan Communications Officer and has been heavily involved in establishing the new set of parish websites across the diocese.
Men's Breakfast: Tuesday, Feb 12, 9 am at Ricky's Restaurant in Nanaimo. All are welcome! For more details, please contact Don Chamberlain: 250-390-4942
Ladies Fellowship Meeting: Tuesday, Feb 12, 10:00 a.m. in the library. For more information contact Pat Wimmer at 250-760-0596.
St Philip by the Sea Singing Group: Next practice is Thursday, Feb 14 at 7:00 pm.
Spring Newsletter: Please send your articles, stories, helpful hints, exciting family news, etc. to Yvonne at [email protected]
Flowers for the Altar: There are still many dates open for 2019. Available dates are Apr 21, Jun 23 & 30, July 28, Aug 4 & 25, Sep 1, Oct 6, 20 & 27, Nov 10 & 24. If you would like to bring flowers, please add your name to the calendar on the church bulletin board, and contact Patricia Thomson-Turner, our Flower Guild Coordinator, at 778-269-1054 or [email protected]

Come on out and support St. Philip by the Sea. Tickets now available!
A fundraising concert for St. Philip by the Sea will be held on Sunday, February 17that 3:00 pm. Listen to some Fabulous Canadian Music with Celtic, Bluegrass, Country, Folk & Gospel Flavors - A Concert with Saskia and Darrel; The Great Plains. Tickets ($15 adults & $10 youth (16 and under) available at the Church after services or at the door or call 250-390-3641.
For those who do not know Saskia and Darrel yet, come on down to meet them, they are very friendly. They tour throughout Canada and Europe and are certainly no strangers to Nanaimo as they live in Comox. They are very happy to be coming to Lantzville for a "Spring" concert.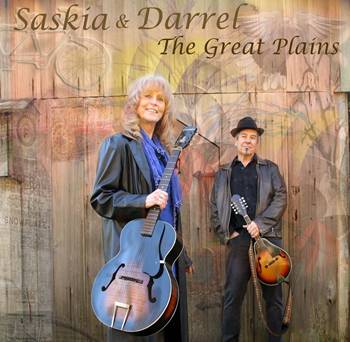 Enjoy a heart-warming show filled with music, merriment, and mayhem as Saskia and Darrel deliver a fun blend of music, an unpredictable series of songs that change every time you see them. They delight their audience with tales about Grain Elevator, War brides, Patchwork quilts, and history makers such as Louis Riel and David Thompson. They will share some sweet songs about their own spiritual journey plus they might break into Swiss yodeling, or sing in Gaelic, Dutch, German or French.
Great Plains are a veteran touring act; with an easy, crowd-friendly style that instantly endears them to any audience. This is true Canadiana; real songs, drenched in our culture and heritage delivered in comfortable highly skilled sets with oodles of self-poking humor. A taste of Celtic, a dab of bluegrass, a touch of folk all wrapped around extremely beautiful melodies. They perform throughout all of Canada and Western Europe and have cultivated an immense following…… winning over their fans one town, one hall at a time. For more information or to have a listen click on the following links: www.thegreatplains.ca https://www.youtube.com/channel/UC92P5A-gKG_TCB8_m3z_ZEA https://www.facebook.com/greatplains.ca https://www.reverbnation.com/saskiaanddarrel
Annual Meeting - Sunday March 3: Our annual meeting will be held on Sunday March 3. On that Sunday, we will be holding a single, joint service at 9:00, which will be followed by light refreshments. After that, we will move into our annual meeting, which we hope as many people at St Philip's will attend. This will be due to begin at 10:30. At this meeting we will be electing new Parish Council members and a warden, appointing delegates for the Diocesan Synod, and receiving the financial report for 2018.
News from the Diocese:
Please visit the link below, where Bishop Logan writes an article about the season.
https://www.bc.anglican.ca/news/a-season-of-discipleship-you-are-the-laity-of-god
Community News:
You are invited to attend The Ismaili Centre in Burnaby on Wednesday, February 20th, 2019. The Shi'a Ismaili Centre in Burnaby (ICB) designed by Bruno Freschi, is a synthesis of traditional Islamic architectural principles and modern construction techniques. From reports of people who have visited the Centre, we can assure you a most memorable day. The Centre, inaugurated in 1985, is one of BC's best kept architectural secrets. Join Zahir Dossa and Naz Rayani C.M., Ph.C., LLD, and the Centre for Studies in Religion and Society CSRS (Uvic) The TOUR of The Ismaili Jamatkhana and Centre Burnaby (ICB)
For information about the event, travel details and to register visit: Eventbrite - Iismaili Centre Burnaby Please pass on the invite to your families & friends. If the bus is full, Please register on the "WAITLIST"
Sorrento Centre Winter Retreat: Join us February 15-18th at Sorrento Centre, in Sorrento BC, just about an hour outside of Kamloops. Youth from across the province go there at least twice every year for different youth retreats. It's a wonderful retreat! This year it's Star Wars themed, but even those who aren't into Star Wars will still enjoy it we believe.
"May the force be with you", the theme for this year's winter retreat, is a key phrase used throughout the 'Star Wars' saga and is well known to even the least enthusiastic fan. Typically, it is used when a Jedi is bidding another farewell but, for me, is so much more than just a simple exchange in pleasantries. In the series, this seemingly insignificant phrase carries with it a rich and deep understanding of the presence that holds the universe together and is alive in all of us. 'The Force', on screen, is a life-force is found everywhere and in everything and, in some strange way, offers an almost perfect metaphor for understanding the way the Holy Spirit works and exists in the universe and in our lives today.
It is our hope to explore this concept at the 2019 Winter Retreat– where we will wrestle with and rest in 'The Force'. We look forward to fun, frolic and reflection this February at the Sorrento Centre. Registration and more info is available at https://dymwinterretreat.wordpress.com/
2019 Co-Ed Cursillo Weekend: February 28th @ 6:30pm – March 3rd @ 4pm. Through this spiritual retreat the Cursillo Community works to revive the spirit and rejuvenate the church through the people. This weekend will provide a one of a kind opportunity to learn more about how to live your life in the way our Lord taught us, deepen your commitment to your faith walk and gain an amazing faith community to walk along and encourage you on your faith journey. Please refer to the attached poster below for information on how to register.
Knitted Together in Mystery - Diocesan Women's Spring Retreat - April 5 - 7, 2019: Join us as we explore what it means to be at home with God, self and neighbour. As faith detectives, we'll investigate holy encounters in scripture, our own lives and in the world. During worship, gather with Mary and Martha, Ruth and Naomi, the Syro-Phonecian woman and her daughter, along with a host of others. Bring your yard, deer stalker and magnifying glass as we engage in spirited sleuthing. Registration deadline: March 17, 2019. For more information: visit https://www.bc.anglican.ca/events/diocesan-womens-spring-retreat--204
Bethlehem Retreat Centre: Retreats for the New Year. For more information click on this link: https://bethlehemcentre.com/
St. Paddy's Sing Along: St. Andrew's United Church Fundraiser: Last March, as DUBLIN2, Terry Boyle introduced the awesome sound of Martin Nolan with his Irish uilleann pipes and whistles to huge acclaim at St. Andrew's United Church, Fitzwilliam St.. In November, he presented a concert of his original music to launch his new CD "Life's Too Short" (available on ITunes). On Saturday, March 16, Terry presents an entirely different show at St. Andrew's. This is a sing along show where everybody is encouraged to join in and sing out to well-known favourites such as "Black Velvet Band", "Danny Boy", "Whiskey in the Jar" and many, many more. Terry's songs and stories as well as his sense of fun and humour are always part of a great evening out. Terry will once again be joined on stage by Victoria fiddle sensation, Ceilidh Briscoe, a "Riverdance" touring member, who brings her own exciting jigs and reels as well as beautiful melodic airs to the evening. Come join us. Sing. Dance if you feel like it, or just listen and enjoy the atmosphere of a truly Irish evening. You are also helping to fund roof replacement on this 125 year-old historic building. When: Saturday, March 16, 2019 Where: St. Andrew's United Church, Fitzwilliam St. Nanaimo Time: 7:30pm Doors open 7:00pm Tickets: $20 - available at Tom Lee Music, Fascinating Rhythm, Yours and Mine Boutique and at Church Office